Setting and maintenance of an automatic watch
Set up your automatic watch with Smart locker concept
To get acquainted with the way to adjust your automatic watch, handle the locker lever several times to identify its different positions.
Locked position :
In this position your watch is water resistant up to 200 metres
Unlocked position : Winding
When you only unlock the smart locker without the winder in setting position you can wind up your watch, especially when the power reserve is over.
Date Position :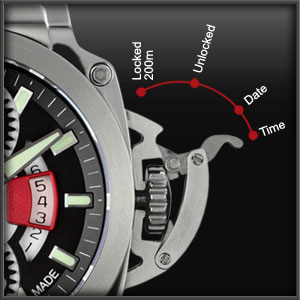 By turning the lever a little further you will feel the first notch, in this position you can set the date of your mechanical watch.
If you are setting your automatic watch in the morning, then the date will change at midnight. If you set it in the afternoon, then display the previous day/ date, then turn the hands with the lever on "time position" to adjust the time. When the date changes it's midnight so you will have to turn the hour hand one turn more to pass noon.
Time position :
By turning the lever till it stops, the second hand stops and you can set the time of your automatic watch.
Strap sized
To size the strap according to your wrist, open the inner part of the folding claps according to the picture. Then move the buckle along the strap by handling the inner part.
Maintaining your automatic watch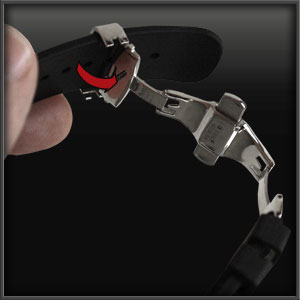 The movements of our automatic watches are very reliable, however an automatic mechanical movement needs cleaning and oiling every 3-5 years depending on the regularity of usage.
Over the duration of time the oil, which lubricates the movement tends to get thicker and then loses its efficiency. With regular maintenance your automatic watch will have lifetime of use. However without caution your watch will only work correctly for around 10 years. If the watch is neglected and not regularly maintained, the movement could age prematurely.
Take care of your watch
All of our watches are designed for intensive use. You can keep it in excellent condition by applying a few simple rules :
Clean it from time to time with a mild detergent and a soft brush.
Rinse your watch using clean, fresh water, after diving or swimming in saltwater.
For those operations the locker can be opened without any trouble.

Avoid high temperatures. Don't leave your watch by a source of heat for long time.